Day 1: Departure
Our amazing tour starts that night when we board the flight to Malta.
Day 2: Arrive inMalta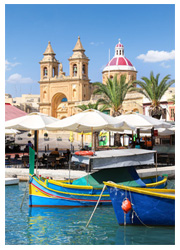 Today we arrive in the beautiful Mediterranean Island of Malta and embark on our Journey to the lands of ancient treasures and Christian history. We will be walking where the Apostle Paul walked! We transfer to a lovely hotel for dinner and our lodging for the next three evenings.
Day 3: Valletta, Harbor Cruise, St. Thomas Bay
A full day of guided sightseeing includes 7,000 years of history beginning in the walled capital city of Valletta, a World Heritage site. Dotted with quaint cafés and shops, the city is today one of Malta's main tourist attractions, hosting among others, the majestic St John's Co-Cathedral, the imposing bastions and a treasure of priceless paintings. Enjoy the history told of the Knight's of St. John of Jerusalem, a Crusader order who defended the westward Islamic campaign into Europe. Relax on your harbor cruise providing a stunning snapshot of Malta's Grand Harbor, often described as the most beautiful in the Mediterranean. Drive to the ramparts where you begin a tour viewing some of the palatial inns and residences en route to St. Thomas Bay, a possible shipwreck site of the Apostle Paul.